The pandemic has caused us to re-examine many aspects of our lives this year. The CFDforCOVID project, led by Florent Duchaine of CERFACS, has been using fluid dynamics tools usually reserved for aeronautical engines to look at how the virus can spread in enclosed environments such as buildings and vehicles, with the aim of helping to turn them into safer spaces that reduce viral transmission.
Investigating the dispersion of infectious diseases is somewhat of a new endeavour for Florent Duchaine's team at CERFACS, who usually use their fluid dynamics simulations to look at the function of aeronautical engines (aircraft and helicopters). As it turns out, however, the tools they have developed for looking at fuel injection in these engines can easily be applied to looking at COVID-19 propagation in air.
The CFDforCOVID project, awarded 10 million core hours on Joliot-Curie Rome, hosted by GENCI at CEA, France, aims to create an HPC tool based on recently developed aerospace computational fluid dynamics solvers to simulate the dispersion, evaporation, and contagion risks of droplets emitted by an infected person, especially in enclosed spaces such as aircraft cabins or buildings. "If we are provided with the ventilation conditions and the shape of the space, we can resolve the flow inside that system," says Duchaine. "We are then able to inject particles at certain points and follow their path around that system, allowing us to see how a virus from an infected individual might travel around that environment and infect other people."
One part of the project has involved modelling what happens when someone sneezes or coughs in front of another person. "One thing we can say fairly certainly is that if someone who is sick sneezes or coughs in your face, you are in big trouble," says Duchaine. "This is only part of the story, however. There are many people around who are carrying the virus but who are not sneezing or coughing and have no symptoms."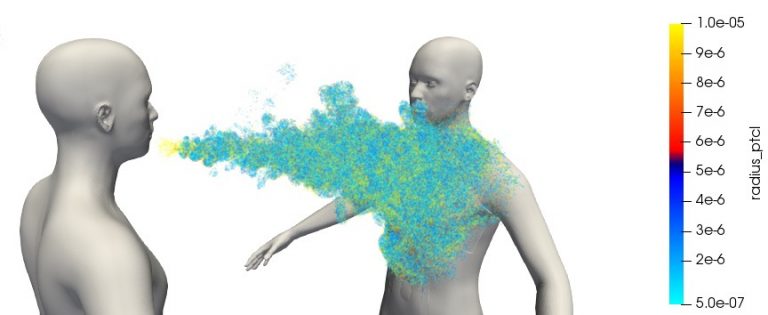 Simulation of a person coughing at a 1m distance from another person. Distribution of the droplets in the turbulent plume emitted by the coughing person.
Although a lot of focus is placed on the spread of infection through individuals coughing or sneezing, more and more studies have pointed towards the fact that respiratory droplets that are released just from talking and breathing can travel considerable distances. These droplets can easily flow around enclosed spaces due to convection currents created by ventilation systems. As such, another aspect of the project involves using the team's solver to resolve these flows in the complex geometries of buildings and vehicles.
The issue of symptomless carriers of the virus and lack of data about how much of the virus is expelled from each person means that examining the spread of the virus is to some extent a probabilistic problem. "We are using our PRACE allocation to perform deterministic simulations," explain Duchaine. "After that, we then have to look at probabilities provided by our biologist and virologist colleagues about the likelihood of viruses being in droplets and whether those viruses are active. All of these different factors allow us to determine probabilities of infection in given environments, and can provide crucial information for transport and construction companies about how to modify rooms or vehicles and change ventilation methods to create less infectious environments."
Although some companies already use lower order fluid dynamics models to examine air circulation within their enclosed environments, they do not come close to the accuracy provided by the high fidelity large-eddy simulations used by Duchaine and his colleagues. As part of the project, they have been working with French construction company GA in order to provide them with a better view of thermal and infectious flow within one of their office rooms. They have examined two different ventilation operating conditions within that office to examine the impact of droplet dispersion. The company will be able to use this data in the future to design better environments that are less likely to help the spread of infectious diseases.
Airborne droplet dispersion emitted by a person breathing during several minutes in a ventilated office.
As well as this, the team have performed simulations of a bus with three different types of operating conditions and with various configurations of people within the bus. "Overall, since we began this PRACE project around six months ago, we have been able to carry out five large simulations, so it has been very productive for us in that sense," says Duchaine.
Although these simulations provide an excellent overview of droplet dispersion in these given environments, the data cannot be easily extrapolated to other environments. With every new building or vehicle, a separate simulation would be needed to look at the flow within that space. Due to the huge computational expense of these simulations, one of the longer-term goals of the team is to be able reduce the model so that other companies can also gain an idea about how infections might move around in their environments.
The computational time provided by PRACE to the researchers has allowed them to carry out these simulations extremely quickly, and has helped them to progress their objectives moving forwards. "We have been fortunate enough to have already worked with two large companies and show them what we are capable of doing with our fluid dynamics tools," says Duchaine.
"Although we are talking about COVID-19 today, we are working with biologists to examine a number of other viruses. This project has helped us to take a big step forwards towards our ultimate goal of creating a tool that can help create safer environments. The pandemic has hugely increased awareness among companies about the importance of creating spaces that mitigate the spread of infectious diseases, and we hope to be the ones that can help them to do that in the future."
Contact
For all questions about PRACE Communications, promotional and press materials, social media, and publications, email: communication@prace-ri.eu or phone us on +32 2 613 09 28.